Research Institute of Open Source Software

Yoshiaki FUKAZAWA
Director, Research Institute of Open Source Software
Professor, Faculty of Science and Engineering of Waseda University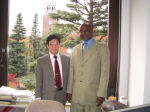 In the last ten years, the technology and innovative capability of IT industry in Japan have been suffering a continuous decreasing. Aiming to correct this situation and to establish the ubiquitous society for the future, advancements, like the improvement of creativity brought by effective and practical usage of OSS and the contribution to the standardization and development of reliable OSS, are on request. Also, more efforts should be conducted on how to deploy and promote academic research achievements for business application. The development of OSS has seen the increasing importance of the roles of universities. Now in Japan, universities are expected to take the initiative and functions as driving force of industry revitalization.

The Research Institute of Open Source Software, Waseda University, has both competent researchers who excel in open projects (for example, Linux) and rich networks at home and abroad. We also have a wealth of experience both in OSS researches and cooperation with industries. By utilizing the features of publicity and neutrality of universities, people can make the best out of OSS in the fields on both open R&D and empirical studies of developed OSS.

Based on the region-wide education and research activities of our institute, especially in those Asian countries like China, South Korea, we promote the fundamental OSS researches, involve these research achievements in commerce, and extensively cover and continue to provide services for our societies by expanding the OSS associations.